With a push from pandemic circumstances in 2020, online shopping is at an all-time high and shows no signs of slowing down. Last year, ecommerce spending was up 30%. And in the first quarter of 2021, $1 of every $5 in retail purchases came from digital orders.
As digital sales explode, so is the competition to hold consumer attention. Back in the 1970s, studies showed consumers were exposed to roughly 500 ads per day—mostly from newspapers, billboards, and television. Today, a consumer may encounter up to 10,000 ads per day. The majority of this increase has come from online advertising.
Clearly, turning an ecommerce shop "on" is not enough. In this article, we introduce 6 digital marketing tactics to help you break through the noise and win business online.
6 Strategies to drive ecommerce traffic and conversions
1) Know your audience
You must direct your marketing efforts towards audience segments that are most likely to convert to sales.
Therefore, the success of your marketing efforts and your online store will depend on how well you know your audience.
Do you know the type of questions that your could-be customers are searching for online? Do you know where they get their news? How about which social media platforms they use? Are they shopping from a desktop computer or mobile device?
Your customer profiles should point to answers to these questions. If your business is new, your customer profiles might be a set of assumptions about who your best customers will be including their:
Lifestyle/business pain point(s)
Job title
Age
Gender
Industry
Company size
Budget range
Shopping behavior/preferences
Geographic location
You may have several different audience segments to profile. For example, a bicycle shop could have serious amateur bikers, off-road hobby bikers, and family bikers. All will have different attributes and problems to solve.
As your business grows, the assumptions that make up your customer profiles should be tested, refined, and backed by data collected from your real-world customers. With accurate customer profiles, you can focus your marketing on the online spaces where your target customers are active.
2) Use high-quality images
The hands-on experience of in-store shopping cannot be replicated online. Instead, to foster trust and help shoppers experience your products, it's key to have high-quality product pictures on your website.
Ideally, you'll have a photo deck for each product showing how it looks from different angles. Think of the online shoe shopping experience. You can scroll through pictures of the front of the shoe, the back, the right side, the left side, bottom and top. Pictures should be formatted to render a good viewing experience across endpoint devices (desktop, mobile, tablet).
Also keep in mind that people relate to people. Having people and human faces in your pictures helps to convey emotion and build trust. Authentic lifestyle product pictures can help shoppers to visualize themselves using your item. Or, for companies selling professional equipment and products, pictures should help buyers imagine how your product can improve their work-life or job performance.
Another often-overlooked element of using 'lifestyle' or 'at work' photographs: they convey scale. From flower pots to end tables to shop shelves, a photo of a person interacting with an object instantly conveys a sense of size.
3) Build organic traffic
In a Google search, most users don't scroll past the 5th result. The top 3 results get 75% of all clicks.
Ranking on the first page of Google requires a long-term strategy and the guidance of a search engine optimization (SEO) expert. There are many tools and tactics to deploy to improve your ranking over time. To get started, use keywords relevant to your product offering and your audience's search queries.
The first place to integrate keywords is in product descriptions. By using the keywords shoppers are typing into Google, you give site visitors confidence that they have come to the right place. A solid product description should communicate what your product is, how it's used, and how it solves a shopper's problem.
A dedicated FAQ section is another great place to integrate keywords. Shoppers often type questions into Google. You have the opportunity to answer those questions in your FAQ section. FAQs should answer informational queries related to specific products, payment, returns, and shipping policies.
Check out Inxeption's I-Commerce FAQ here.
Answering long-tail search queries helps drive high-intent organic traffic because they address specific questions users have when they are closer to a purchase decision. If you can answer a visitor's questions without them having to do more research or contact your team, they are more likely to make a purchase right away.
Organic traffic is free, and it has longevity. As long as your ranking pages remain online, you can continue to attract visitors to your site. But organic traffic also takes time to build and therefore is best supplemented with paid traffic.
4) Leverage paid traffic
Unlike organic traffic, paid traffic is almost instantaneous. As soon as you pay for a banner or ad campaign, millions of potential viewers across the web can see it.
Paid traffic can be extremely targeted with the ability to launch campaigns only in certain geographic locations or only to users that have searched specific keywords.
There are a number of different paid traffic methods to choose from. For the highest conversion rates, you'll need to deploy a combination of tactics that match your audience's online behavior and shopping preferences.
Here are some of the most popular paid traffic sources:
Paid search advertising is the placement of text ads on search engines such as Google, Bing, and Yahoo. You can set up ads to appear for certain search terms, thereby homing in on your highest intent prospects. You can even target shoppers that are searching for your competitors instead of you (for now). Search ads like the one below will appear above or below organic search results.
---

---
Display advertising is the process of creating and placing banner and video ads on websites and blogs. By deploying banners on YoutTube channels or websites that your audience already visits, you can build brand awareness and draw prospects to your site.
Remarketing allows you to position targeted ads in front of people that have already visited your website as they browse elsewhere around the internet. This has been shown to increase conversion by as much as 161%.
When it comes to paid traffic, knowing your audience makes all the difference. With knowledge of your audience's online behavior, paid traffic is like spearfishing. Without a strong understanding of your audience, paid advertising is more like fishing with a big net that has too many holes to catch any fish.
5) Engage Your Audience
According to a McKinsey survey, 40% of consumers switched brands in 2020. With abundant choice both in stores and online, brand loyalty is eroding.
It's critical to engage your audience online to keep the relationship fresh and continually offer value to prospects and customers.
One way to do this is with email marketing. As you build your customer base and list of leads, you should also be building your email list. With email newsletters, you can share company news, customer stories, and promotional offers to keep your audience engaged.
Here's an example of a newsletter Inxeption sent out recently.
You can also create nurture automation campaigns that send emails to prospects after trigger actions, such as filling out a form on your website.
To measure the effectiveness of email marketing efforts, collect data on email open rates, click-through rates (for links in the email), and subscriber growth.
Social media is another great way to reach your audience. Social platforms provide an environment for two-way interaction where you can collect feedback, engage in conversations, and share company content and offers.
Depending on your audience's preferences, you may want to focus your energies on one or several of the most popular social platforms:
Facebook
Twitter
Instagram
LinkedIn
Pinterest
Start by building a profile, adding pictures, identifying your hashtags, and joining channels and groups relevant to your business. To measure the success of your social efforts, collect performance data like reach, impressions, and engagement (likes, shares, comments, mentions).
6) Build social proof
Social proof is the idea that consumers adapt their behavior depending on what others are doing.
One type of social proof every business should have are user reviews — up to 91% of shoppers read online reviews before they make a purchase.
In the marketing world, the impact of social proof means customers can be your best advocates. When a satisfied customer puts in a good word for you, it helps build trust with could-be customers.
Other types of social proof include:
Testimonials
Case studies
Celebrity endorsements
Expert endorsements
Word-of-mouth
User-generated content
Awards and accolades
If you are a young company or have a new social proof program, it may be difficult to get reviews and testimonials. To encourage participation, consider incentives.
Here at Inxeption, we sent out an email to our commerce partners with a simple ask to generate more reviews:
"If you've had a positive experience on our platform so far, would you mind leaving a review on G2.com? We'll send you a pack of Rise Brew Coffee if you do (also one of our customers). If you've had a less than 100% positive experience, what can we do to make it better?"
Here's an example of one of the resulting reviews:
---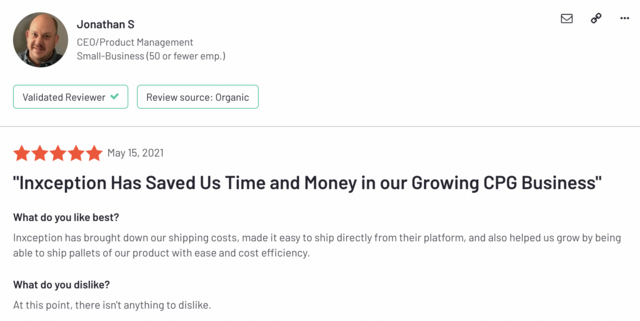 ---

With this approach, we managed to multiply our reviews on G2, cross-promote our Rise Brew Co. partner, and engage more directly with other commerce partners.
Increase visibility and drive sales
Digital marketing is data-driven and requires a strategic approach. You must have data insights into your target customers and their behavior, your website performance, ad spend, and conversions. Only then can you create targeted, effective digital marketing campaigns.
With Inxeption's integrated marketing and analytics services, we help our commerce partners define their target audience and digital marketing goals. We apply customer data and performance reporting to build marketing campaigns that drive traffic and boost sales.
Our marketing experts can help you develop the digital assets and tools to build long-term, profitable customer relationships.
Online buying is here to stay. The question is, can your brand grow its visibility and cut through the noise to capture more digital sales?
To speak with one of our digital marketing experts, reach out to Inxeption at 888.852.4783.